Grow Your Service Company With SOPs
If you're a service business owner looking to grow the size of your company, you need to have standard operating procedures in place. These policies are an important part of any organization's infrastructure. They can help ensure that all employees follow the same rules and regulations. Standard Operating Procedures can also be used as a tool for training new hires or even reviewing processes with existing staff.
Developing your first standard operating procedures can be daunting, especially when you're just starting out. Business owners throughout the world must create standard operating procedures. It is a challenging process, but it is necessary for their operations.
That's why we've developed the world's largest library of SOPs, Templates, Guides, Business Documents, and Marketing Resources specifically designed for home services repair companies such as Appliance Repair Companies, HVAC Companies, Electricians, and Plumbing Companies.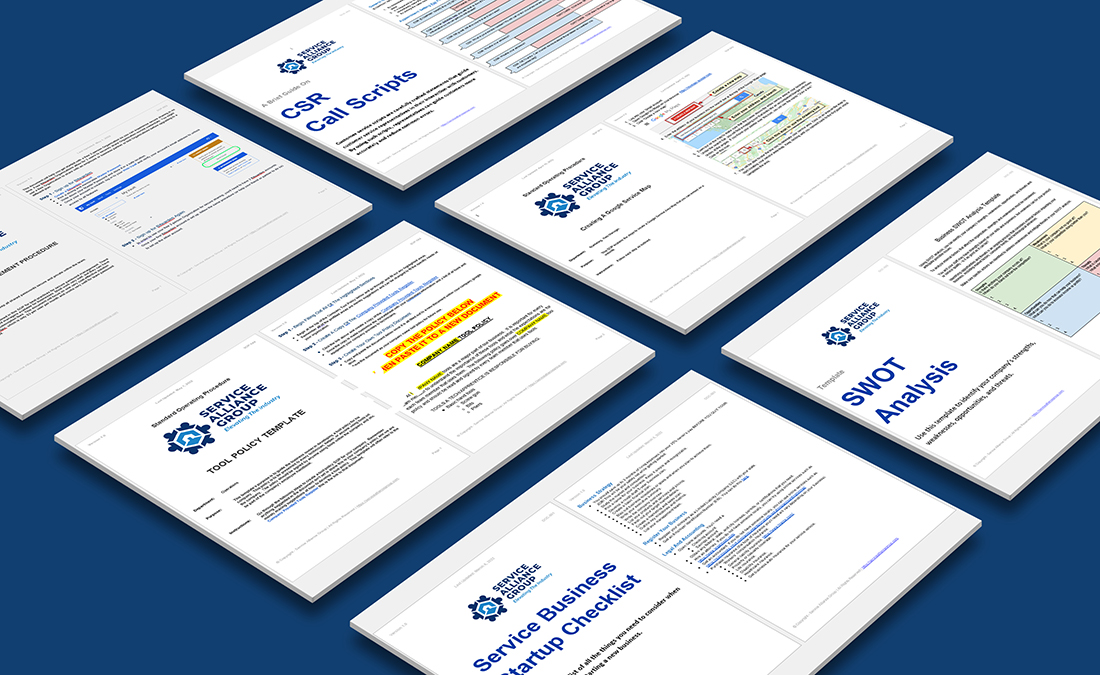 Our SOP Library
Our extensive (and growing) library of business documents includes, but not limited to, the following documents.
Get instant access when you sign up for our All Access Business Owner Membership level.
HR/Hiring SOPs & Business Documents
Vacation And Leave Policy

Performance Appraisal Self Assessment

Employee Corrective Action Plan

Employee Evaluation Review Form

Exit Interview Questionnaire

Employee Termination Letter

Employment Application Form
Applicant Offer Letter

Applicant Rejection Letter

Payment Agreement Contract

Employee Warning Letter

Job Applicant Evaluation

Workforce Readiness Questions

Technician Tiered Pay System

Job Listing Process

CSR Job Listing

CSR Job Description

Appliance Repair Technician Job Listing
HVAC Technician Job Listing

Plumbing Technician Job Listing

Electrical Technician Job Listing

Job Fair Recruiting Plan

New Employee Setup Process

Anti-harassment Policy and Complaint Procedure

Appliance Repair Technician Job Description

HVAC Technician Job Description

Plumbing Technician Job Description

Electrical Technician Job Description

Candidate Interview Process Checklist
Administration SOPs & Business Documents
Business Startup Checklist

Pre-Existing Property Damage Acknowledgement Report

Potential Property Damage Liability Release

Emergency Contact List

Daily Mileage Log

Vehicle Maintenance Checklist

Disaster Recovery Plan

Business Process Map

Business Requirements Documentation
Team Meeting Note

Meeting Agenda

Vehicle Inspection Form

To-Do List

Property Maintenance Request Form

Property Inspection Checklist

Professional Development Plan

Business Digital Security Checklist

Customer Instructions
CSR Daily Call Log

Company Provided Tools Register

Customer Complaint Sheet

Service Call Checklist

Team Meeting

CSR & Customer Service Phone Script

Service Call Proceedures

Computer Care & Security Procedure

Team Meeting Procedures

Vendor and Supplier File Checklist
Financial SOPs & Business Documents
Cash Flow Projections Spreadsheet 24 Months

Appliance Repair Pricing Tier Spreadsheet
Services Pricing

Discounts Process Policy

Payment Methods Policy
Fuel Card Policy

Check Acceptance Policy
Legal SOPs & Business Documents
Website Terms Of Service (Appliance Repair)

Website Terms Of Service (Plumbing)

Website Terms Of Service (HVAC)
Website Terms Of Service (Electrician)

Non-Disclosure Agreement Confidentiality Agreement

Demand Letter
Website Privacy Policy

Property Manager Agreement
Operations SOPs & Business Documents
Safety Data Sheet Procedure

Transactions With Minors Policy

Tool Policy
Handling Unhappy Customers

Team Password Management Procedure

Parts Ordering Process
Daily Parts Coordinating

Set Up Slack For Team Communication
Sales/Marketing SOPs & Business Documents
CSR Call Scripts Guide

Social Media Checklist

Business Introduction Letter

Press Release Template

Social Media Calendar Template

Social Media Presence Recipe

Guidelines for Content Repurposing

Tear Away Flyer Template

Social Media Audit Worksheet

Local SEO Checklist

Writing SEO Friendly Blog Posts
Granting access to Google Search console

Setting up Google Search Console

How To Add Google Analytics To A WordPress Website

Granting access to Google Analytics

Steps to Create a Local Services Ad

Creating a Google Ads Account

Set up Google Alerts

How to Respond to Reviews

How To Ask Customer For Positive Reviews

How to Use Meta Business Suite

Marketing Plan Checklist
Set up Google Search Console

Add Facebook Live Chat to WordPress

Remove Bad Google Reviews

Create a Facebook Page for Your Business

SEO Marketing Plan

Set up a new Google Business Profile

Content Marketing Plan Template

Content Calendar Template

How to Write a PR Plan

Creating A Google Service Map

Performing a social media audit

How to Setup a Social Listening Campaign
Frequently Asked Questions
What Makes Us Different?
Unlike other SOP and Business Documentation packages, we have custom designed these high-quality documents specifically for the service industry. Other providers simply break up an employee handbook and call it a set of SOPs. Our SOP library was developed to help your business scale and succeed. There are not any other SOPs developed to the extent of information or the high level of quality standards that we have created.